T57-K - Full system manifold for piggable connections between production, tank field and filling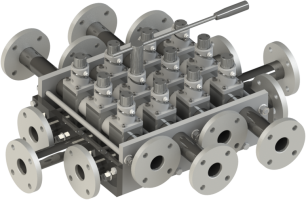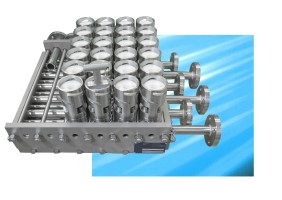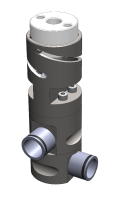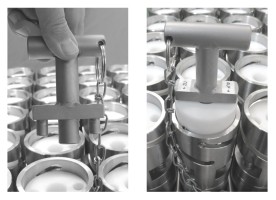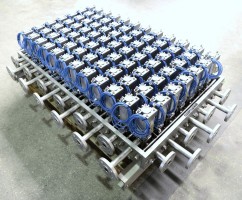 The benefits: The full system manifold T57-K has a compact design. Thus a large number of connections can be produced. Due to the closed design the risk of accidental leakages is excluded. Simple operation and minimal maintenance speak for the good suitability in daily use of this unique manifold in the area of smaller nominal sizes.
Technical description: The manifold unit T57-K consists of a matrix layout with a manifold node which is piggable to one side. The upper full system line and the lower pigging line are installed rectangular to each other. In initial state both lines are separated from each other when the manifold is switched. In the manual version the manifold is operated with a hand lever. The manifold can be applied for horizontal and vertical arrangement.
Technical Characteristics
| | |
| --- | --- |
| Nominal sizes | DN 25 / 32 / 40 / 50 |
| Pressure stage | PN 10, 150#; PN 25, 300# |
| Materials in contact with product | 1.4571, 1.4301, Steel |
| Seal materials | NBR, PTFE; others on request |
| Materials not in contact with product | Aluminium |
| Operation | pneumatic actuator or manual |
If you need detailed specifications or have further questions, please do not hesitate to contact us.